Mission Statement
​The purpose for which the Society is organized is to act as a repository for Tewksbury history. It shall maintain any property entrusted to it and collect, preserve and interpret items of historical and traditional significance. The Society shall encourage research and involvement in these efforts by its members and the community at large. The Society shall sponsor history-based activities in the town on a regular basis. In so doing, it shall promote a better understanding of history as an important factor in the everyday affairs of the Town of Tewksbury and its residents.
Our Story
Headquartered in Tewksbury, Massachusetts, the Tewksbury Historical Society was founded in 1993.
For more than two decades we have worked to preserve, document and educate the community about our local history. Some of our projects include (but are not limited to):
Organizing the annual Patriot Line of March ceremony to honor the local men who marched to and fought in Concord on April 19th, 1775
Attempts to preserve the Hardy-Pike House
Attempts to preserve the old Foster Schoolhouse
Organizing historic walks highlighting the town's long history
Organize and schedule the "Warren Carey" Historic lecture series
Tewksbury Historical Society Officers
Executive Committee
President – Doug Sears
Vice President – Nancy Reed
Treasurer – Linda Voutour
Recording Secretary – William Wyatt
Corresponding Secretary – Rick Cummings
Other Board Members
Brian Cortez
Rick Cummings
Karen Favreau
Rita O'Brien Dee
Luann O'Keefe
Want to Learn More
Society members are available every 2nd and 4th Tuesdays, from 1 – 5 pm, at the Tewksbury Library. We welcome your participation.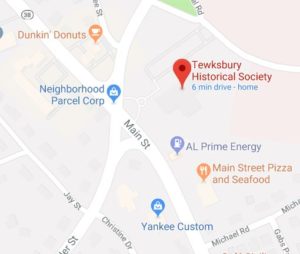 History Room
300 Chandler Street
Tewksbury, Massachusetts 01876